Once a week Designer Y is going to present a different showcase with a theme of A-Z. This is our first week so we will begin with "A is for Apple"
On Ebay from Anneke*Panneke
From mylittlefairytales on ebay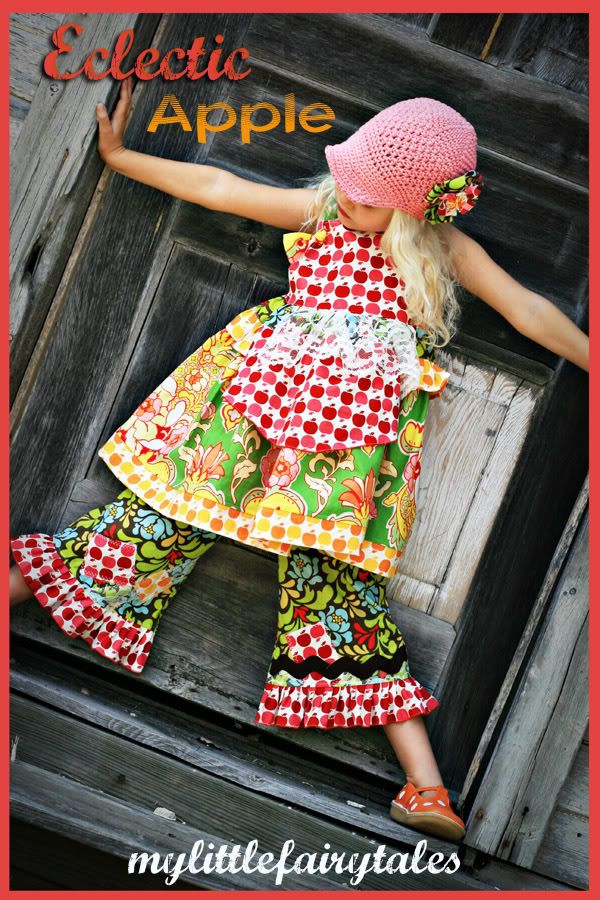 *enchanted*threads is offering this sweet apple set with a euro flair
(on ebay)
---
Some Yummy Apple Recipes: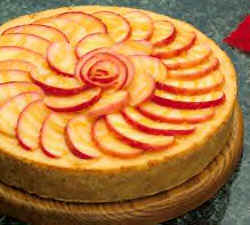 Apple Cinnamon Cheesecake
Yield: One 10-inch cheesecake
1/2 cup plus 1 tablespoon margarine or butter, softened
1/4 cup firmly packed light brown sugar
1 cup un-sifted flour
1/4 cup quick-cooking oats
1/4 cup finely chopped walnuts
1/2 teaspoon ground cinnamon
2 (8-ounce) packages cream cheese, softened
1 (14-ounce) can Eagle® Brand Sweetened Condensed Milk (NOT evaporated milk)
3 eggs
1/2 cup frozen apple juice concentrate, thawed
2 medium all-purpose apples, cored and sliced
Cinnamon Apple Glaze
Preheat oven to 300 F. In small mixer bowl, beat 1/2 cup margarine and sugar until fluffy. Add flour, oats, nuts and cinnamon; mix well. Press firmly on bottom and halfway up side of 10-inch cheesecake pan. Bake 10 minutes.
Meanwhile, in large mixer bowl, beat cheese until fluffy. Gradually beat in Eagle Brand until smooth. Add eggs and juice concentrate; mix well. Pour into prepared pan.
Bake 45 minutes or until center springs back when lightly touched. Cool.
In large skillet, cook apples in remaining 1 tablespoon margarine until tender-crisp. Arrange on top of cheesecake; drizzle with Cinnamon Apple Glaze. Chill. Refrigerate leftovers.
Cinnamon Apple Glaze:
In small saucepan, combine 1/4 cup frozen apple juice concentrate, thawed, 1 teaspoon cornstarch and 1/4 teaspoon ground cinnamon; mix well. Over low heat, cook and stir until thickened. (Makes about 1/4 cup.)
Apple Spice Drink
Categories: Beverages, Christmas
Yield: 6 Servings
3 teaspoon grated orange peel
3 cinnamon sticks, crushed
3 teaspoon whole cloves
1 whole nutmeg, crushed
3 c Apple juice
6 Cinnamon sticks
Combine orange peel, 3 crushed cinnamon sticks, cloves and nutmeg in a small bowl. Tie dry ingredients in a double thickness of cheesecloth to make a sachet, or secure in a large tea-straining ball. In a medium pan, simmer apple juice with spices for at least 20 minutes.
Ladle into mugs and garnish each with a cinnamon stick.