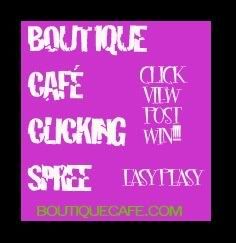 It's CLICKING SPREE day on Boutiquecafe.com- Tuesday!!!!
Come click on the ads, post and get a chance to win some GREAT prizes!!!
Click
HERE
to play!
Tell me you saw it on this blog when you post on our forum and I will give you an extra entry to win a prize! OR blog about it yourself and post the link in our forum as well!! It's fun for everyone!!!
NOW - go get clicking!